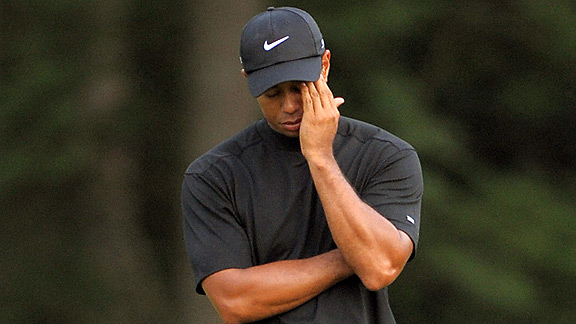 The past week has been pretty close to rock bottom for Tiger Woods. While just recently he was seen as the can-do-no-wrong athlete, this sparkling image has left him for good, as reports of numerous mistresses and cheating has filled the television, Internet and social media news waves. So far Tiger has chosen to just release two statements on his website, leaving hungry reporters looking for more. It seems like he could use a little bit of PR advice just about now:
1. Take control of the story: Posting a statement to your website will get a message through, but you don't say anything specific in the statement. This results in people digging for more information, and creating the story on your own. If you create your own content it will be used. If you were to hold a press conference, that would be the lead picture in stories instead of pictures of your mistresses.
3. Be Honest: No one likes a liar. If you lie, TMZ reporters will continue to sniff out the truth, and based on what we know already, it could get a lot worse for you. If you're honest people won't stop looking for more information, but it will slow down. It's important to realize that damaging news coming from you is much better then damaging news coming from a third party.
3. Apologize: You're not the first superstar to mess up. Kobe Bryant didn't just have an affair – he was charged with sexual assault. He apologized during a press conference and now he's on the top of the world, fresh off a NBA championship. When we found out A-Rod did steroids, he apologized during a press conference, and now he's fresh off a World Series victory. When it came out that President Clinton had an affair, he apologized (eventually), and now he's back in the White House (kind of). All three of these people rebounded from their mistakes. The ones who did not? Well, just look at Roger Clemens. Besides, America loves to forgive, and loves a winner.
This is our second installment of "PR Advice." You can read our PR advice for Manny Ramirez here.