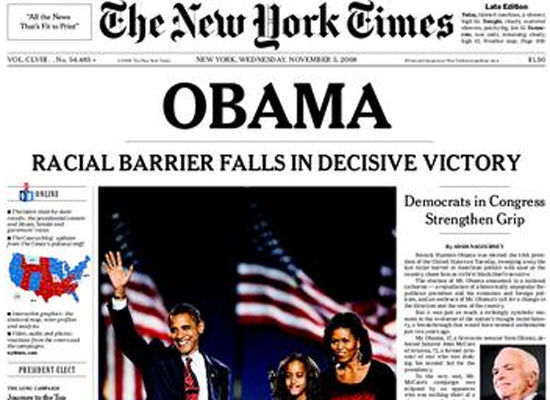 Before his first official day on the job, President-elect Barack Obama was already able to help out the struggling newspaper industry by boosting their sales – in some cases – through the roof.
The New York Times saw a huge increase in demand, and their front page paper is already being auctioned off on eBay for upwards of $100. People have been standing in line for hours at their main office just to get their hands on a copy of Wednesday's paper, which was sold out and needed to be re-printed.
The Silicon Alley Insider posted a list of the top eBay bids for some newspapers around the country (updated as of this morning):
$122.50 for the New York Times
$100.00 for the Chicago Tribune
$51.00 for the Chicago Sun-Times
$51.00 for the Los Angeles Times
$41.00 for the New York Post
$28.76 for the Chicago Daily Herald
$26.00 for the Chicago Northwest Herald
$16.50 for the Rockford Register Star (IL)
$14.49 for the New York Daily News
$12.50 for USA Today
$9.49 for the Indianapolis Star
At least the newspapers can enjoy one day of high demand before everyone goes back online.