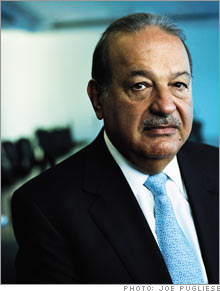 By Kyle Austin
Perhaps, an old graying lady. Multiple reports, including one by Richard Perez-Pena in the Times and another by Russell Adams in the Wall Street Journal today, indicate that Mexican billionaire Carlos Slim has accumulated a 6.4 percent stake in the New York Times Company. Stephanie Mehta and Fortune claimed Slim to be the "Richest man in the World" in last November's fantastic cover story and Forbes has Slim listed as the second richest man in the world, second only to Warren Buffett.
So why his the interest in the New York Times co. as print advertising revenue has declined 14% in its newspapers (NYT's, Boston Globe, etc) over the first two quarters of 2008? According to Reuters, Slim told reporters in Mexico that the investment was purely financial and it didn't illustrate any strategic investment strategy in U.S. media (a la Rupert Murdoch).
The telecom-titan, who made his wealth in wireless and fixed-line communications, has recently shown some aspiration to invest in media companies. According to the New York Times he made a 1 percent investment in the UK company that runs The Independent this May.
As Perez-Pena notes in his column today, Slim also has a history of buying assets while they are "down" (or graying) in order to gain profit through sale down the road:
"Slim has a history of buying depressed assets he can later sell at a profit, and several analysts familiar with his investments say they see the purchase of Times Co. stock in that vein."
So will he remain a silent investor with the Times Co.? And more importantly, what has he seen to make him think that the Times Co. may fetch a higher price in the not-so-distant future?