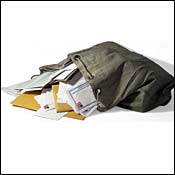 By Kyle Austin
If you listened to Sam Whitmore's Media Survey Tech Edit focus on the AP a few weeks back (newsletter should be coming out soon), you heard Sam and I talk about the lack of an AP presence in the Twittosphere. Following-up that conversation Sam posted a revised list of those reporters that are on Twitter and what their usage patterns look like. The most interesting take away from this updated list were the twitterers that have seen a drastic jump in their followers:
"With rare exception, everyone's following spiked, some dramatically. Among the turbocharged Twitterers: Leo Laporte (3,045 to 53,185), John C. Dvorak (6,357 to 28,456), Natali del Conte (130 to 3,671) and Peter Shankman (1,115 to 5,449). New York Times reporter John Markoff no longer privatizes his Twitter feed, and grew his following from 16 followers to 505 since Apr. 21. NYT colleague Brad Stone recently launched an unprotected feed, which has 207 followers. Walt Mossberg Tweeted 25 times since we last looked; his following grew from 51 to 654."
Will be interesting to see Sam follow these stats throughout the year.
One is wondering if we will soon see the reporters at the WSJ in Twitter land. Of course in this context, I'm not talking about the daily Journal, but rather Down Jones' new lifestyle magazine. The magazine will debut as an insert in the Saturday Journal on September 6 and will be distributed quarterly. Early reports on the magazine have it centering its coverage on "modern wealth." So far, according to MediaWeek, the first launch for the Rupert led Dow Jones corp. is going well. They apparently have 51 advertisers in their first issue, with 19 of those being high-luxury advertisers that have not called the pages of the Journal home before.
This is certainly another vehicle which Murdoch can use to assault the Times as he goes after the title of "The Nation's paper of record." In fact as "Moe" at Gawker notes, the New York Times has monopolized high-luxury advertisers in the land of major dailies (10 percent of their ad revenue). However, Moe also notes that the buzz in the newsroom between folks that have contributed to the inaugural issue, and those who haven't, makes the debut sound like a giant fluff piece.
Here's hoping the "fluff" on what executives are doing with "modern wealth" sold some advertising and the new WSJ will find its true calling quickly to engage readers. As Moe also notes on Gawker:
"Stories that rely not only on the Journal's matchless access to captains of industry, but a long-waning commitment to nuance and humor and the seemingly superfluous but telling detail (and um, length) — would get better play in a lifestyle magazine format."
Now there is an idea I like. Imagine a glossy magazine full of stories like Kate Kelly's on "The Fall of Bear Sterns." Now, we're talking.