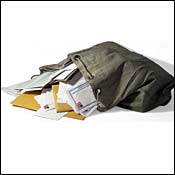 By Kyle Austin
Everyone within the media industry likes to speculate on the "death of newspapers." However, sometimes TV news outlets get placed into the conversation as an additional dying medium. Local news outlets certainly have had issues in maintaining viewership during the Internet age. However, if you plan to reach the masses with news (or a message) – national network television – remains the best place to target multiple demographics. At least that is what the numbers say. Pew Research Center's biannual survey on news consumption, released Sunday, found that the largest group (46%) of news consumers still turn to their televisions (almost solely) for news.
Although Internet news consumption continues to grow it still represents the smallest group of news consumers (13%). This group is also the youngest demographic of news consumers, with a median age of 35; 17 years younger then the median average of the group reliant on TV news. The study does echo the general shift towards online consumption and away from print news outlets. 34 percent of those surveyed stated they had read a newspaper the day before – down from 40 percent in 2006. Meanwhile, 25 percent of those surveyed noted they go to the Internet for news at least three times each week – up from 18 percent two years ago.
In addition, another statistic that is always interesting to look at within the biannual Pew research are the "Believability Ratings." Mediabistro nicely highlights the findings here and I've embedded below as well.
Not that surprisingly, the CNN brand carries credibility with viewers – scoring the top believability rating. However, I am surprised that it was graded higher by TV viewers than 60 Minutes. Although the study notes that almost every outlet has had its credibility marks decline over the last decade – these two aforementioned outlets have managed to stay relevant in most people's eyes. Not so relevant is Katie Couric and CBS, who fell below Fox News in the ratings.
NBC News won the believability battle between the three major networks; another feather in its cap as it basks in the glow of its Olympic ratings triumph. Bill Carter and Richard Sandomir further illustrated just how successful the games have been for NBC, in today's NYT's:
The Games have drawn an average audience of about 30 million a night on NBC itself, millions more on NBC's cable channels, 30 million unique visitors to NBC's Olympics Web site, 6.3 million shared videos from the coverage streamed on the site and an ultimate profit that network executives project will surpass $100 million.
 A successful multi-channel (digital and television) initiative – NBC may have figured "it" out.