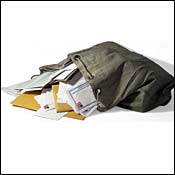 By Kyle Austin
Ah, the Internet. I never managed to turn this around for yesterday, so who's stopping me from putting it out today? Why wait a week? If only the Philadelphia Inquirer understood that.
In the spirit of the Olympics, an event that not only transcends sport but also the very meaning of competition (Bob Costas is rubbing off on me), it seems appropriate to spotlight the media industry competition that has become a pseudo Shakespearean subplot to the Beijing games.
A wiser man passed along this week that Herbert Hoover once said, "Competition is not only the basis of protection to the consumer, but is the incentive to progress."
It's hard to argue against the fact that competition in the technology and media sectors has changed the way the Beijing Games are being covered; leading to a progressive viewing experience that seems to be sitting well with viewers.
TV Vs. Internet Video: The most analyzed media competition of the games. NBC has the exclusive TV and online rights to the Olympics in the U.S. and Brian Stelter illustrated the game of "whack-a-mole" it led to on Friday. NBC took the route of launching its coverage with the pre-recorded opening ceremony in primetime – not live. Stelter reported his story (after gathering stories through Twitter) on page 1 in Saturday's New York Times:
"NBC's decision to delay broadcasting the opening ceremonies by 12 hours sent people across the country to their computers to poke holes in NBC's technological wall — by finding newsfeeds on foreign broadcasters' Web sites and by watching clips of the ceremonies on YouTube and other sites. In response, NBC sent frantic requests to Web sites, asking them to take down the illicit clips and restrict authorized video to host countries. As the four-hour ceremony progressed, a game of digital whack-a-mole took place. Network executives tried to regulate leaks on the Web and shut down unauthorized video, while viewers deftly traded new links on blogs and on the Twitter site, redirecting one another to coverage from, say, Germany, or a site with a grainy Spanish-language video stream."
NBC, obviously concerned that breach could tarnish viewership for its primetime broadcast and alienate advertisers, may have uncovered something about the new media landscape along the way. Early results, including the numbers for the opening ceremony – 34.2 million viewers – indicate that this year's games are drawing more viewers in the states for an internationally hosted Olympics then ever before. David Carr nicely summed this up in his Media Equation column yesterday:
"You might assume, along with NBC executives, that the jail break of information damaged NBC's precious choreographed broadcast. You would assume wrongly, by the way. According to Richard Sandomir of The New York Times, the four-hour opening ceremony attracted an average of 34.2 million viewers, the most ever for an opening ceremony not in the United States. I was one of them, in part because as the day wore on, I saw all manner of oohing and ahhing on the Web from bloggers and friends who had peeked in and found themselves awe-struck. By the time the broadcast rolled around, my daughter and I had been nicely primed by the Web fanatics for what was, after all, a kind of epic movie made in real time that was best enjoyed on a big screen with good resolution."
His insight, underlines another way in which technological competition has transformed the way we watch this Olympics. For me and many others the Beijing games will likely be remembered as the first HD games. For the Torino Olympics NBC produced 50 percent of the events in HD. This year, for the first time, the Olympics are being produced entirely in HD. For borderline Olympic watchers (like me) this makes a huge difference. In Boston, Comcast has dedicated HD Olympic channels that broadcast basketball and soccer 24 hours a day in HD. This weekend, I found myself cultivated by the Brazil vs. New Zealand soccer game in HD and ended up sitting through the Ivory Coast vs. Serbia game after that – only because it was in HD.
Fox Business vs. CNBC: Leave it to Fox Business to create a negative ad campaign around Olympics' coverage. The somewhat seedy network has bought local airtime to run commercials on CNBC, during their switch-over blocks to Olympic programming, which call out CNBC for dropping its business coverage. Phil Rosenthal of the Chicago Tribune reports that they have bought airtime in local markets including Chicago and New York.
He also reports that commercials go something like this:
"In just a couple of minutes, CNBC is going to drop their business news programming," the Fox anchor Liz Claman says in commercials that will run on CNBC in Chicago, New York, and other major markets beginning today. "Switch to the Fox Business Network," she says. "Real business news and no games!"
I have to admit, it's hard to take your eyes off of Fox Business. Kind of like it's hard to take your eyes off a train wreck.
Wall Street Journal Vs. Washington Post: Ron Grover, BusinessWeek's venerable LA Bureau chief became the latest to weigh in on Rupert's charge to take down the New York Times last week. What got Don to finally address the issue? Here's what:
"The day after General Motors announced a stunning $15.5 billion quarterly loss, the Journal which Murdoch has controlled for a year, led instead with the more tantalizing story of a federal scientist's suicide while under investigation in the anthrax case."
Today's Journal, interestingly enough, leads with the Georgia and Russia conflict. It also includes a separate page 1 story that analyzes how Vladimir Putin has drawn a line in the sand for the West. Murdoch's Journal has made political and world news a leading priority in recent months. Even back in late March, Washington Post columnist Howard Kurtz detailed how the Journal was making political coverage its business.The percentage of political coverage on the front page of the Journal in the first four months – following Murdoch's takeover – versus the four months previous to his takeover, jumped from 4.8 to 18 percent.
However, a funny thing has happened along the way as Murdoch continues to set his aim at the New York Times – the subplot with the Washington Post has become more interesting. It's no secret that Murdoch had a heavy hand in showing Marcus Brauchli the door and now he's competing as editor-in-chief at the Post in breaking poltical coverage. With Brauchli working closely with Washington Post publisher, and newly anointed media mogul Katharine Graham, it must've been a little chilly at this party in Beijing. Here's hoping they didn't cross paths.