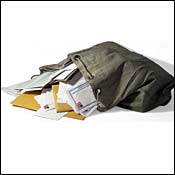 By Kyle Austin
Goodbye DKNY: In my interview with David Kirkpatrick (or DKNY as some of his Fortune colleagues call him), leading up to Brainstorm:TECH, we touched on the leave he's going on for his upcoming book The Facebook Effect. Last Friday Kirkpatrick published his final Fast Forward column, ending its 6 and a half year run. In talking with David, he will be back at Fortune in a year or so (He's aiming for September of next year with his book). However, he'll be more of a "free agent" as he says, or editor-at-large. He'll also have his byline on a new column – which is yet to be decided.
If it's goodbye to David, then who are we saying hello to at Fortune? Who should we look to – to take the baton and lead the Fortune brand in its technology and business coverage?
Hello Michael V. Copeland: Although he doesn't have the influence or clout of DKNY in the mainstream media – Michael V. Copeland, a senior editor-at-large at Fortune, is the best bet to really anchor the feature technology coverage. He penned the cover story on Tesla in the most recent Fortune (technology special for Brainstorm:TECH) and has taken over Josh Quittner's former role by penning tech columns for each issue of the magazine.
Hello Adam Lashinsky: As far as stepping into David's shoes as the next big Fortune "Brand," one should look no further then Adam Lashinsky. Lashinsky proved that he's seasoned speaker and moderator at Brainstorm:TECH.
He hosted one of the most talked about panels of the event in moderating the blogger showdown between Kara Swisher, Robert Scoble and Om Malik. While moderating, Lashinsky managed to steal the show at times (not an easy chore with this group), and even got the last laugh when responding to Scoble's assertion that the reader participation in fact-checking his blog makes sure that his stories are told accurately:
"In the old school, we like to get it right the first time," quipped Lashinsky.
Even Om Malik noticed that Lashinksy had a true stage presence:
"Fortune senior writer Adam Lashinsky, who is missing his calling as a television anchor by being just a scribe, was a witty host, also trying to press our buttons."
Lashinsky already makes regular appearances on Fox News and the Fox Business Network and one would expect more of the same in the future – along with more work on video segments for CNNMoney.com. In addition, Lashinsky's focus on the finance behind technology – especially on the West Coast, make him a natural to cover the big financial stories (Ala the WSJ)  on Google, Yahoo!, Microsoft and Apple without DKNY around.
Goodbye to the Joe Nocera and Steve Jobs on-the-record Debate: After I wrote about it last week, Joe took time out of his vacation to clear it up on his blog. Hope to hear more from him now that he is "officially" back from vacation.
Goodbye and Hello to Claire Cain Miller: Claire Miller became the second high-profile exit from the Bulingame office of Forbes over the last month, when word broke last week that she has officially joined the New York Times San Francisco bureau as a VC reporter. Earlier this month Erika Brown, who also covered San Francisco based VC's and tech companies out of the Burlingame office, left Forbes to join VC firm Matrix Patrners as Director of Marketing and Business Development. Forbes takes a lot of heat from the VC's and start-ups that I talk to regularly – for not devoting enough coverage to technology companies on the rise, as well as a lack of feature stories on trends happening in the tech space. These two latest exits are not going to help them increase coverage there. On the bright side, Miller has a pretty good introduction into the VC social circle with Brown.